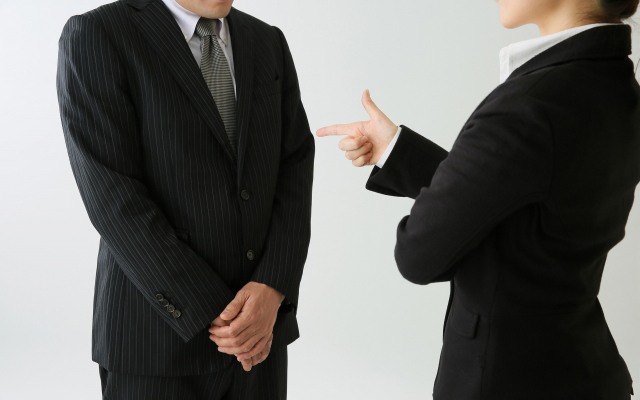 Japan Business Law: Having "Appropriate Awareness" to Help Prevent Problems of Power Harassment
Having a good awareness of power harassment will help prevent power harassment in your company. Furthermore, if an employee complains of "power harassment", you will be able to respond appropriately. This article will explain the appropriate information on power harassment.
Definitions and typical examples of power harassment at work

In Japan, the Ministry of Health, Labor & Welfare has defined power harassment as follows.
"To those who work in the same workplace, based on a background of superiority in the workplace, such as job status and or other relationship, cause mental and physical anguish or worsen the workplace environment beyond what is deemed acceptable for the range of business"
Furthermore, typical examples of power harassment are classified into the following six categories.
(1)Physical aggression
Assault, Injury
(2)Psychological aggression
Intimidation, Defamation, Insult, Verbal abuse
(3)Isolation from human relationships
Isolation, Excluded from friends, Neglect
(4)Unreasonable demands
Demanding what is clearly unnecessary or impossible in conducting business, Obstructing work
(5) Limited demands
Ordering a person to do work that is far below the person's abilities or experience, Not providing jobs
(6) Infringing on the individual
Being overly intrusive about personal matters
Specifically, it can be said that the following acts at work are likely to be power harassment.
・Teasing without regard to the content of work
・Along with colleagues, ignoring certain employees at work
・Violence such as kicking and hitting.
・Saying things that deny people's dignity such as calling someone a "goldbricker"
・Making unreasonable reassignment to another department.
Acquire correct knowledge and prevent problems
Among the definitions of power harassment stated by the Ministry of Health, Labor & Welfare mentioned above, the main point is the part "Beyond what is deemed acceptable for the range of business".
In other words, this means that an action would not be considered power harassment if it does not exceed the "appropriate range of work".  Providing necessary work instructions within the generally considered range of work is not power harassment.
At this time, regardless of how the receiving party considers it, and it is important to ascertain "whether or not it is within the appropriate range of business", and it is necessary to refer to past court cases.  Even if your employees say, "I received a power harassment from my boss!", firstly it's important to calmly check the situation.
For a company, there is nothing good about workplace trouble.
Not only does the atmosphere at work worsen, trouble can even lead to waning productivity.
Therefore, such a situation must be avoided. To do so, it is recommended to firmly acquire knowledge about power harassment and try to prevent the occurrence of troubles.
It is said that an effective way to prevent power harassment is the implementation of workshops. It is the most important thing to enlighten employees about power harassment prevention through in-house training. In addition, setting up a consultation desk is another preventive measure that can be expected to be effective. Companies can minimize damage by maintaining an internal system that can handle consultations from victims through the contact between the general affairs department and a corporation lawyer.
While referring to the above, please create an atmosphere that makes it easy for employees to do their jobs.
※ The content described in this article is based on the laws and regulations as of June 2019.